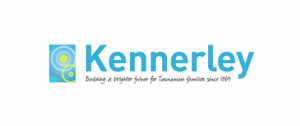 Media Release Thursday, September 7, 2017
A Tasmanian First to Lead Sector Reform
Kennerley, Tasmania's oldest and largest private not-for-profit provider of foster care for children, hopes the findings of its Youth Voices project, presented to the State Government today, will lead to reform in the sector.
The presentation was made by Kennerley as part of Child Protection Week, to shine a light on the positive work that is happening in foster care in the State.
In a first for Tasmania, earlier this year Kennerley, with the assistance of a clinical psychologist did group surveys of children aged from 8-26 years old, who are, or were, in its care. They were asked how they think the overall system could be improved.
The results were captured and printed in a booklet, and presented by Kennerley's Young Ambassador Masika Morris at a bipartisan event hosted by the Speaker of the House, Elise Archer at Parliament House.
"We are proud to be working alongside our Government partners to make a real difference to children and young people," Kennerley General Manager Andrea Sturges said.
"Listening to children was one of the key findings of the survey, because it made them feel truly valued, so today is important in showing those children that we are listening and we are keen to act on their recommendations," Ms Sturges said.
Six key themes of the survey:
To reconnect with their families even if it wasn't safe to be with them all the time;
Better planning, consistency, inclusion
To be with their siblings.
More support for young people leaving care, and more Moving On Programs.
To work together as a system, for more permanency planning – stability.
To make decisions quickly so they feel that they are important.
Elise Archer praised the leadership role that Kennerley is playing in the sector and the community.
"Kennerley Children's Home is a leader in its field and continues to put children front and centre of its operations. It is clear why it has been around for nearly 150 years, upholding the tradition of its founder," Ms Archer said.
"I also congratulate Masika Morris for her courage and leadership in taking on the important role of Young Ambassador to ensure the voices of foster care children are heard, and continue to be heard," she said.
Kennerley cares for around 100 children in foster care in southern Tasmania. It is a private, not for profit with a volunteer board, relying on fundraising, donations and some government support to operate its programs.
Its Moving on Program assists young people from around 16 years of age to transition out of foster care to live, study and work independently. Masika was assisted by this program and is currently a fourth-year law student at UTAS. Kennerley is the only organisation offering this program in Tasmania.
Further information or interview:
Andrea Sturges Tel. 0457 543 225
Released by: Keryn Nylander, Nylander Consulting Tel. 0418 996 536