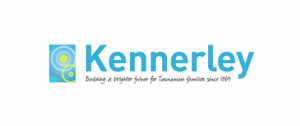 Kennerley, the largest foster care provider for children in Southern Tasmania and the State's oldest care provider, is continuing to lead the way with the launch today of its new Young Ambassador Program.
Masika Morris, who grew up in foster care, has accepted to be the first Young Ambassador to lead the way and be a role model for the program and children in care. Now 22 and in her fourth year of an Arts Law Degree at University of Tasmania Hobart, Masika wants to make a difference.
"Through no fault of their own, children find themselves in foster care and it is a time of great anxiety and loss. I hope to give a voice to those children and hopefully also to be a role model for them to show that they can achieve their dreams and be whoever they want to be," Masika said.
"I want to provide leadership by influencing the outcomes for young people and their care experience by advocating for their general rights and giving them a voice," Masika said.
Kennerley is a private, not-for-profit care provider run by a volunteer board. Through its programs, it cares for around 100 children aged from birth to 18 years in Southern Tasmania.
Its Moving On Program assists children from 16 years on to transition out of foster care and to live independently, work and study with support – both emotional and financial. Masika was a Kennerley Moving On Program recipient and it enabled her to stay at College to do her TCE with a support network which then led to her entering University.
Kennerley General Manager Andrea Sturges says the Moving on Program is the only one of its type in Australia facilitating young people to live independently rather than in residential care – making Kennerley a leader in its field.
"Masika is an accomplished, independent young woman and we are immensely proud in playing a support role to help her achieve her goals," Andrea said.
"We are even more proud that she is choosing to give back in this way and to help other
children by being a role model," Ms Sturges said.
Kennerley has also played a role in helping rebuild Masika's relationship with her mother
and other siblings – who attended the Young Ambassador announcement today at the Town
Hall, hosted by the Lord Mayor, Alderman Sue Hickey.
Ms Sturges said Kennerley's founder, Alfred Kennerley, was a former Lord Mayor and a very
progressive community-minded man who made a difference to the lives of so many
children. She said it was only fitting that the announcement was made by the current office
holder.
"We continue that proud tradition today – nearly 150 years since Kennerley was founded."
Further information or interview:
Andrea Sturges Tel. 0457 543 225
Released by: Keryn Nylander, Nylander Consulting Tel. 0418 996 536